I am officially one happy housewife. Our couches will be delivered on Dec. 6th, in 4 more days I can start decorating for Christmas, AND we have finally, finally -after 8 months of obsessive compulsive nuttiness- picked out our kitchen countertops and cabinet colors! So, just a quick recap here: this is what the kichen looked like before we moved in.
Yes, that is green and pink paint. And here's what we've got now:
It's not really that bad. I'm not in love with the cabinets or anything, but we have an original, almost 100 year old brick column in our kitchen. It could be worse. But I digress.
The countertops we picked are Wilsonart laminate and the color is Tumbled Roca. It comes precut, so all we have to do is slap it in place.
Wilsonart Tumbled Roca
Probably kind of hard to tell, but there are tiny little flecks of sage green in there. Which made picking out the cabinet color really easy. Yep, sage green. Trust me, it'll be fab. Plus, it'll coordinate with our sage green fireplace, which is visible from the kitchen. This is the general idea: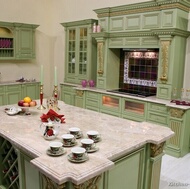 the overall effect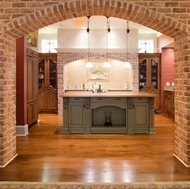 with brick
Can't wait to get started. Kitchen photos are from
www.kitchen-design-ideas.org
You can browse by color, so if you're in need of inspiration, check them out.